Auto Jr. Induction Sealing Machine
Auto Jr. Induction Cap Sealing System
Email for a Quote

Watch an Induction Sealing Video
The Auto Jr is designed for packagers who require a semi-automatic sealing process with low production volumes. The table top Auto Jr is compact and ideal for production environments where a bottle conveyor is not practical. Built-in guides ensure operators properly line-up containers for sealing. A digital timer lets the operator know when the sealing process is completed.
Provides a semi-automatic sealing process
Ideal for low production volumes
ompact, table top design
Built-in guides ensure containers are properly in-line
Includes a digital timer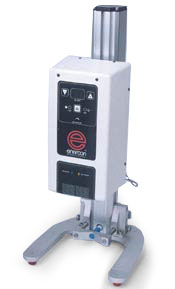 Auto Jr. Standard Features
Easy setup - Simply adjust unit height to container height, set V-stop to properly align cap with centering mark on base, and set timer for necessary sealing power.
Simple operation - Slide a container into the alignment V-stop; container is precisely positioned for proper sealing and set power is automatically applied.
Seal both round & square containers - Easily affixed brackets accommodate F-style bottles. Seals closures up to 89 mm.
Advanced IGBT circuitry - Delivers high efficiency sealing power and long term reliability.
Digital timer - Provides precise timing from 0.1 to 9.9 seconds.
Two current levels - Adjustable with front panel selection push button.
No cooling water required - Completely air-cooled/water-less operation.
Auto Jr. Specifications
Dimensions - 7" x 12" x 15" 178mm x 300mm x 380mm)
Weight - 27lbs. (12.3 kg)
Input Voltage - 230 VAC, 50 Hz. Available
Chat with Us
Sign up for SKS Emails!