Plastic Boxes, Plastic Storage Boxes and Cases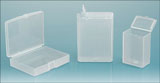 SKS is now offering a selection of plastic boxes and plastic cases. We have standard and customized molded plastic cases for a variety of uses. Use these cases to organize a variety of products. Organize your crafts, your garage, your fishing lures, nuts and bolts, and more! The plastic boxes and cases are great for keeping your belongings contained in a neat, orderly, and easily accessible manner. Each plastic box we carry combines bulk storage with compartmentalization to give you the convenience and flexibility you need.
Chat with Us
Sign up for SKS Emails!