Plastic Funnels, Scoops and Beakers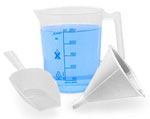 To make your filling and measuring tasks easier, SKS carries an extensive selection of plastic funnels, scoops, graduated cylinders, plastic beakers and wash bottles. Choose from a wide range of capacities to suit your needs.
No products in this index.
Chat with Us
Sign up for SKS Emails!