Metal Containers, Aluminum Bottles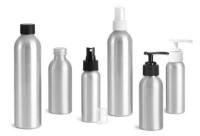 These sleek, silver aluminum bottles are available in three sizes with several great closure options for a high end packaging look and convenient dispensing. Choose from aluminum bottles with caps such as our fine mist sprayers, lotion pumps, or plastic and metal caps. These metal bottles could be a sophisticated and practical packaging solution for many bath and body care and household products. Be sure to read our informative aluminum bottle product spotlight for additional details and creative ideas!
The Metal Containers, Aluminum Bottles in this index have been discontinued. Please view other options below, or return to our index.
Other Categories
Chat with Us