Home Brew, Fermentation and Distilling Containers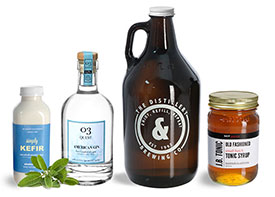 With the popularity of home brewing, fermenting and home distilling on the rise, SKS has put together a collection of bottles and jars suited to meet the packaging needs of both family brewing companies and large distilleries. We have cold brew coffee and craft beer growlers for sale as well as amber and clear glass rounds that we like to use for brewed coffee and tea. Find a kimchi jar or wide mouth bottle to store homemade sauerkraut and fermented vegetables. We also have fermenting supplies for making yogurt, fermented tea and fermented hot sauces. If your needs are for home distilling, we have a nice selection of glass bottles with corks, bitters bottles with droppers and empty liquor bottles.
Chat with Us
Sign up for SKS Emails!