Candle Containers, Jars and Tins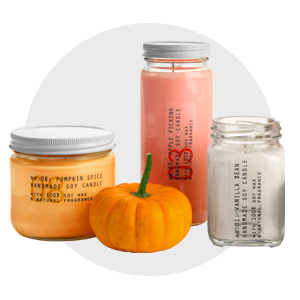 Welcome to the Candle Supply index. Our extensive line of candle containers is perfect for both the candle hobbyist or professional candle maker. Browse our selection below! SKS offers a variety of glass candle jars and metal candle tins, which are available in multiple sizes, shapes, and colors. Glass jars are offered in clear, frosted, and amber, while metal tins can be found in silver or gold.
A Note About Our Candle Jars and Tins
All of our glass candle jars are packaged in cardboard boxes and secured by cardboard dividers to prevent damage. SKS glass candle jars and candle tins are sold in small kits if you are looking for just a modest quantity but are also offered in wholesale bulk cases for your biggest discount. Quantity discounts are available off your total order so combine glass bottles, glass jars, tins and more to create a unique product line of candles.

*As always, you should test your candle containers with product for compatibility and always exercise caution when making or burning candles. We do not imply these containers are fit for any particular use.
Chat with Us
Sign up for SKS Emails!